Marco Fantozzi è il distributore per l'Europa dei software Leaks (www.leakssuite.com) per la gestione delle perdite e la gestione della pressione, sviluppati da Allan Lambert (ILMSS Ltd – International Leakage Management Support Services Ltd) sulla base di metodi promossi dall'IWA Water Losses Specialist Group.Replica Designer Handbags I software LEAKS consentono all'utente di valutare le diverse opzioni di quantificazione e riduzione delle perdite e identificare le soluzioni più idonee e convenienti per ridurre le perdite e risparmiare denaro.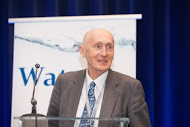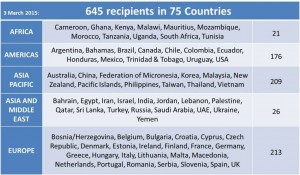 Allan Lambert
 Diffusione software LEAKS
Quale principale distributore dei software LEAKS dal 2005,Replica Handbags l'eccezionale impegno e supporto di Marco è stato riconosciuto nel Settembre 2013, quando il suo accordo di distribuzione dei Software LEAKS per l'Italia, i Balcani, la Grecia e Cipro è stato esteso per altri 10 anni. Nel maggio 2015, questo accordo viene ulteriormente modifcato in un accordo esclusivo di uso per i seguenti software LEAKS: CheckCalcs, PIFastCalcs, PressCalcs, ALCCalcs, ELLCalcs, UFRZoneCalcs, ANPER, STIPERZENIA, per tutto il territorio Europeo, con supporto da Aqua Libera nei Balcani Occidentali e da Melcer Consulting in Grecia e Cipro.
Al 2015, oltre 645 gestori in 75 paesi utilizzano i programmi Leaks, per lo più forniti con supporto specialistico da parte dei consulenti regionali specializzati e con formazione completa sui concetti e le funzionalità dei software.
In particolare è stato sviluppato il software ANPER (ANalisi PERdite)Replica Designer Handbags uk in Italiano utilizzato da IREN Reggio Emilia e altri gestori Italani per il calcolo del bilancio idrico e per l'analisi delle portate notturne secondo le metodologie 'best practice'Replica Handbags uk sviluppate dall'IWA Water Loss Specialist Group.
Marco Fantozzi è lieto di fornire preventivi su richiesta per l'acquisto, la formazione e il supporto tecnico dei software LEAKS, o per la scrittura di un nuovo software specialistico in base alle esigenze del Cliente.
Di seguito maggiori informazioni sui software LEAKS (www.leakssuite.com).
Overview – Leakage and Pressure Management using LEAKS Suite
Software for Water Utilities – free, standard, customised and professional
LEAKS (Leakage Evaluation and Assessment Know-How Software) is a comprehensive suite of customisable software programs used to quantify leakage and pressure management options in water distribution systems. It can help Utilities to understand the interlinked processes that cause leakage, and to identify opportunities for reducing leakage, saving money and increasing efficiency
LEAKS was created by Allan Lambert, an acknowledged expert in water loss management, for ILMSS Ltd and its international partners. It uses proven practical methods  promoted  by the IWA Water Loss Specialist Group such as IWA Water Balance and best practice KPIs, Real Loss component  analysis  and FAVAD pressure:leak flow  relationships
Free Software
CheckCalcs is an introductory software that can quickly:
calculate 'best practice' performance indicators for systems
identify priority actions, using international guidelines
assess benefits of managing adverse effects of excess pressure
AZP&NDFCalcs introduces two important leakage analysis concepts
Average Zone Point (AZP) for representative average pressure measurements
Night Day Factor (NDF) to convert night leakage per hour to daily leakage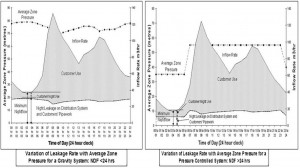 Reliable leakage calculations need to take account of Zone pressures, so an 'Average Zone Point' (AZP) needs to be identified, for representative measurements of average pressure. Because Zone pressure (and therefore leak flow rate) varies over 24 hours, an average 'Night Day Factor' (NDF) is also needed to convert night leakage per hour to daily leakage (& vice versa).  This free software explains how to identify and record the location of the Average Zone Point, and how to calculate the Night Day Factor by analysing pressure measurements taken at the Average Zone Point.
AZPandNDFCalcs
An Excel Workbook with colour coded Worksheets tabs:
STEP BY STEP
Learn why Inlet Point, Average Zone Point and Target (Critical) Point need to be defined for every Zone
Define these points in the PMSites Worksheet, then show them on a Zone Plan, with contours
Night Day Factor = 

Night leakage volume /hr

24-hour Leakage volume
Learn why NDF can be more or less than 24 hours/day, depending on variations in average zone pressure
Learn how to calculate NDF from pressures measured at the Average Zone Point
Advanced Software
PIFastCalcs – Advanced Water Balance and KPI calculations
NRW volumes, costs, KPIs, confidence limts
The 4-component approach to management of Real Losses starts with an IWA best practice Water Balance and associated Key Performance Indicators. PIFastCalcs does these calculations in more detail than 'CheckCalcs', with reliability bands, confidence levels, and valuation of Non Revenue Water components.
OVERVIEW
Use of confidence limits identifies data weak points in water balance, and priorities to improve confidence limits for calculated Real Losses.
Designed for easy sensitivity testing
'Consumption' and 'Running Costs' Worksheets can be used for detailed information when appropriate.
How low could you go? Calculates Unavoidable Annual Real Losses (UARL) and Unavoidable Background Leakage (UBL).
Compares performance with international (and regional) data sets, and World Bank Institute Performance Bands A to D for ILI (Infrastructure Leakage Index)
ALCCalcs – Active Leakage Control
Quick calculations of economic ALC policy
Many Utilities do not have an ALC program, do not know how to calculate an appropriate ALC budget, and are unaware that the annual volume of their Real Losses could be significantly reduced by limiting the average run times of unreported leaks. Quick assessments of economic ALC policies can be done by assuming a policy of 'regular survey', in which unreported leaks are identified by periodic acoustic surveys and inspections.
ALCCalcs is designed to assist and encourage Utilities to economically manage unreported leakage. It is an Excel Workbook with colour coded Worksheets tabs
The key output, to help Utilities 'get started', is a rapid prediction for each system, with confidence levels, of  economic values of:
ALC intervention frequency
% of system to be checked/year
ALC annual budget  (excluding repair costs)
level of unreported real losses
These predictions are based on 3 local system specific parameters
value/m3 of lost water  CV
cost of intervention CI
rate of rise of unreported leakage RR
3 simple ways to estimate average rate of rise of unreported leakage are explained.
The efficiency of Active Leakage Control  can be further improved by measuring and interpreting night flows in individual sectors.
ALCCalcs also provides information and guidance on timing, analysis and interpretation of night flow easurements, including:
IWA night flow components terminology
identifying when to measure night flows
estimating night consumption
prioritising ALCl interventions
recording elevant Zone information
PressCalcs – An Introduction to Pressure Management Benefits
Key principles for analysis and prediction